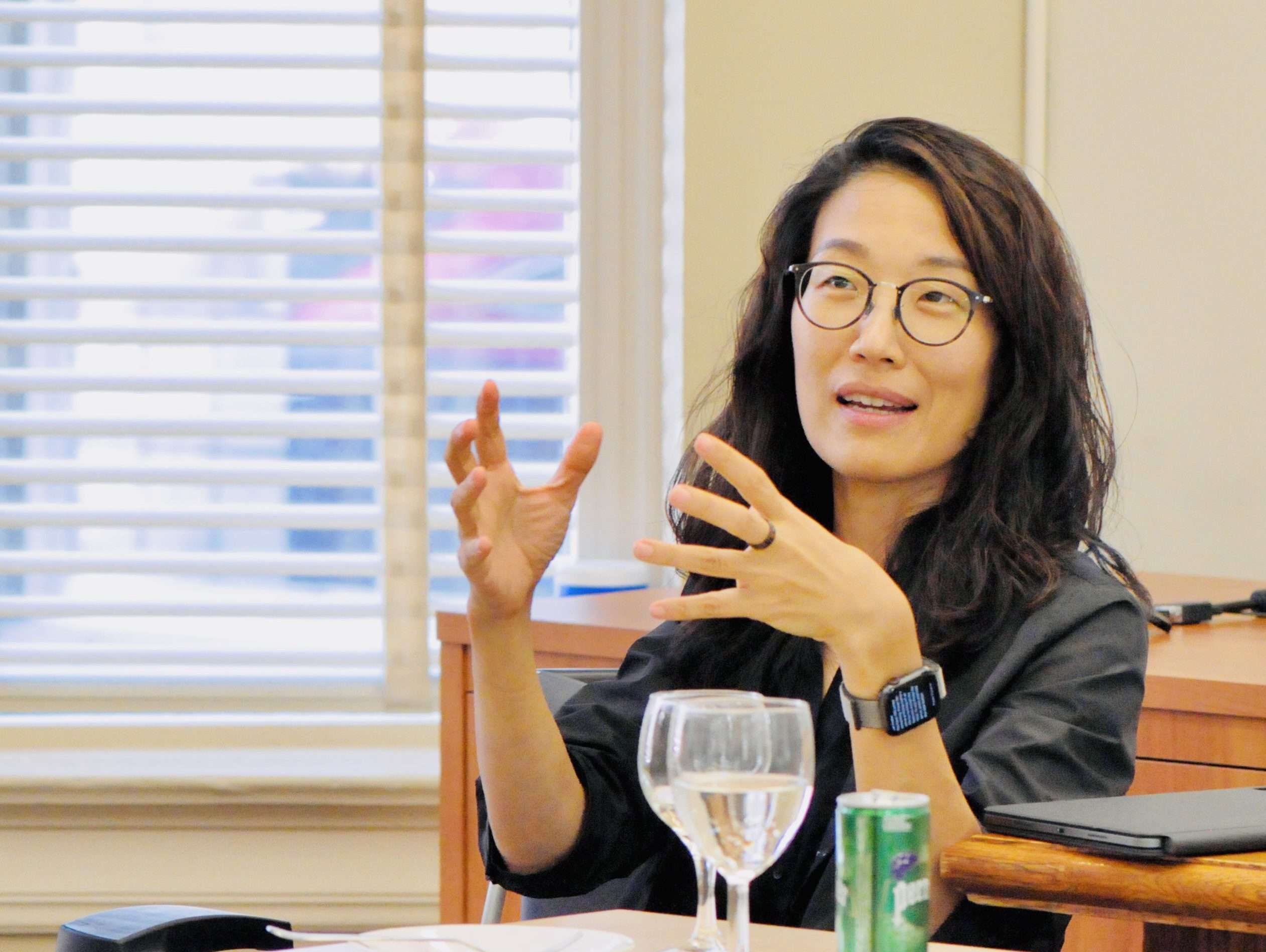 Haesun Moon, Ph.D.
Haesun Moon, Ph.D., is a communication scientist, educator, and author with a heart for people having better conversations at home and in the workplace.
Haesun authored Coaching A to Z: The Extraordinary Use of Ordinary Words and several collaborative books. She also developed the Dialogic Orientation Quadrant (DOQ) as a heuristic of interaction in studying conversations. She received her Ph.D. in Adult Education and Community Development from the University of Toronto where she currently teaches.
In her coaching and consulting work, Haesun strives to create dialogic conditions where people can imagineer and perform their preferred change. She believes that conversations can change the world and is committed on most days to live in that direction. Most days, that is.
She also has a love for early mornings, afternoon naps, good coffee, and fine pens with fine nibs. For more information and her dog photos, please visit her websites at www.briefcoaching.ca and www.coachingatoz.com.
Meta-Conversations: Efficacy of Our Work
This workshop is designed to provide you with practical tools and strategies from communication science that can be immediately applied to enhance your practice and pedagogy. Informed by Microanalysis of Face-to-Face Dialogue (MFD) and Dialogic Orientation Quadrant (DOQ), you will learn how to analyze conversations in useful and usable chunks for your learning and teaching.
We will explore various ideas and heuristics from communication science, including curative listening, reflective practice, and direct observation of interactions. Through a combination of video recordings, live demonstrations, and participant-chosen activities, you will gain a deeper understanding of these concepts and how to apply them in your daily practice. Also, we will use a range of short video recordings to illustrate patterns and functions of interactions. These videos will be analyzed together in the session based on your curiosities and methods of choice, encouraging everyone to share their insights and observations. Live demonstrations may also be used to show how to apply a few simple tools in practice - whether in a coaching session with clients or a supervision session with learners. You will have the opportunity to practice "observing" interactions in real-time conversations.
In addition, you will have the opportunity to choose from a selection of activities that align with your interests and research/learning focus. These activities could include using the tools introduced in the session to craft new tools for your use. By tailoring the activities to meet individual needs and interests, you can make the most of their learning experience. Throughout the workshop, your creativity and curiosity are the biggest contributors! You will be encouraged to share your experiences and insights to learn together. By the end of the workshop, you will have gained or enhanced highly applicable skills and insights into how to refine your craft of conversing. You will have a deeper understanding of the communication patterns in your coaching interactions and be equipped with practical tools and strategies to improve your practice and pedagogy. Of course, there are no guarantees that any of this will come to fruition, but this is my best hope and I hope you bring yours too.
Format: Workshop
Level: Introductory/Intermediate/Advanced
No maximum number of attendees: